Spirulina Project
Spirulina Super Food For Nourishing Children
Spirulina is a blue-green algae that thrives in warm alkaline fresh water. It is being developed as the "food of the future" because of its high protein content 60 to 70 percent with all the essential amino acids as well as vitamins, minerals and iron in an easily available and digestible form.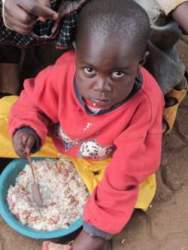 During the sixtieth United Nations General Assembly a draft resolution on the "Use of Spirulina to combat hunger and malnutrition and help achieve sustainable development" was submitted. As a follow up, FAO was asked to prepare a paper on Spirulina.
In that FAO circular 1034,Rome 2008 it was stated, "There is a role for both national as well as intergovernmental organizations to re-evaluate the potential of Spirulina to fulfil both their own food security needs as well as a tool for their overseas development and emergency response efforts. Small scale production should be oriented towards: (i) providing nutritional supplements for widespread use in rural and urban communities where the staple diet is poor or inadequate."
In January 2011 Abha Light started a Spirulina project to feed malnourished children. Beginning with 2 ponds naturally producing high protein Spirulina we have expanded to 4 ponds in the rural Wote area.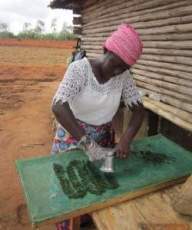 We are in the process of marketing Spirulina Super Food to be sold to the Health food industry and the rest will be given to improve the health and well being of malnourished children. One in 3 children are malnourished in Kenya so there is a tremendous need.
CLICK NEXT —> for more information on the Benefits of Spirulina