About
Sunrise Farm, Derroran, Whitegate County Clare is a 38 acre ecological farm located in the Slieve Aughty mountains overlooking Lough Derg, the 2nd longest lake in Ireland. We are in the process of transforming the old farm into an eco sustainable community based on the principles of NeoHumanism, love and respect for all plants and animals as well as people. Founded as the Sunrise Education Trust our mission is to educate for health, happiness, sustainability and service.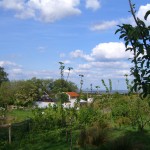 Our projects to promote health include an organic garden with medicinal herbs, apple trees and berry bushes, classes in vegetarian cooking and daily yoga to promote the unity of body mind and spirit.
To find happiness we search within offering free meditation lessons as a method for self realization and then when we discover our true inner selves we can actualize our potential and contribute by putting love in everything we do.
We utilize sustainable construction techniques such as earth bags, cord wood and straw bales in order to educate potential methods that are eco friendly for the environment.


We train volunteers in first aide, homeopathy, communication and development skills so they may volunteer in projects through out the world and we can arrange placements.